You may have spent months looking for that all-important special occasion outfit and know how important the finishing touches are for maximum impact. The great news is there are exclusive stores such as Aspinal of London that is proud to offer the most beautiful designer pieces handmade to perfection.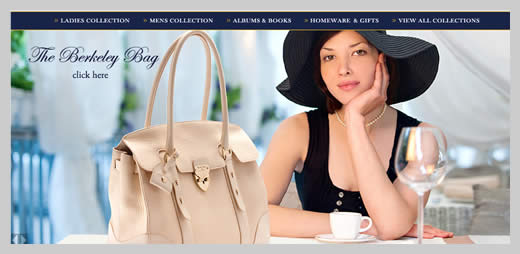 You will find their ladies collection exciting and inspirational with unique handbags and clutch bags in fabulous colours and designs. The press has spotted many famous faces with an Aspinal creation including Kate Middleton carrying an Eaton Clutch with chain.
Featured articles in the national media including Vogue, Tatler, Hello, Harpers, Grazia and OK draws the spotlight to Aspinal's wonderful array of accessories. Fashion-conscious ladies with an eye for style and quality will find the range exceeds all expectations. You can get the hottest looks and latest trends plus find timeless classic handbags for that extra wow factor.
Beautiful Wedding Clutch Bags and Handbags
We particularly like the Kylie Purse Clutch with chain. Elegant and versatile in four fabulous colours makes this a winner. It has a removable lightweight gold or silver chain that transforms it from a shoulder bag to a cute purse clutch. Choose from gold snake, red patent croc, silver snake, black patent croc and candy pink patent.
Chic summer dressing
For chic summer dressing we particular like the Candy Pink Patent Croc & Cream Suede Clutch. This is handmade in deep shine patent mock croc or mock snakeskin Italian calf leather and fully lined in soft suede and silk. This gorgeous clutch is finished with an Aspinal signature easy release clasp and has its own protective felt bag keeping it looking good for years.
Aspinal's ladies leather handbags are individually made in their own workshops by master craftsmen perfecting each piece down to the last detail. The stunning collection of bags offer outstanding quality for all occasions from everyday wear, holidays, workwear and of course weddings.
Clutch Purses & Evening Bags for Instant Glamour
Fall in love with colour as you browse the new range of bags from Aspinal and discover what's hitting the headlines in fashion. The black Eaton Clutch with chain that was featured in the Hello Magazine is proving popular and is available in five striking shades.
Blue & Cream Croc with Gold Snake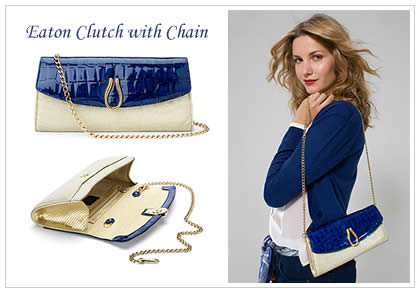 Choose from black patent croc, hot pink croc, brown patterned snake, gold snake and our favourite the Eaton clutch in blue and cream croc with gold snake.
Carrying a dressy bag made for the red carpet not only sets you apart it shows off you style technique. Your coordination skills will come to the fore as you refine the finishing touches to compliment your ensemble.
Upgrade your Travel Bag & Arrive in Style
Special occasions usually involve one night stop overs or weekend breaks what better way to carry your things than with a ladies Aspinal travel bag.
Luxury Travel Bags
Choosing from their beautiful range of luxury leather travel bags, travel holdalls, leather travel bags, weekend bags, cabin bags and canvas bags means you' ll be arriving first class.
St Tropez Cabin Bag
The St Tropez Cabin Bag will be your best friend on many a journey. Its perfect size will hold all your essentials and fit easily on board as a cabin bag. Available in four stunning colours: amazon brown croc, black croc, purple croc and navy croc.
In addition to travel bags, handbag and clutch bags the ladies collection also holds a great variety of other accessories. These include wallets & purses, cosmetic & toiletry bags, jewellery boxes, leather gloves, silk scarves, vanity cases, leather belts and beauty accessories.