A lovely autumn and winter coat in all the right shades to compliment the season. Gold, yellows and mauve combine to bring a sense of elegance to the wearer. A dressy top coat for special occasions that is perfect for cooler months.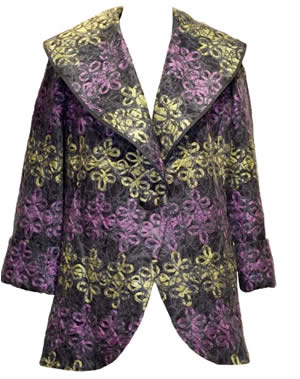 View more coats
---
Designer brand names such as Chesca take great care in bringing style, comfort, fit and uniqueness into their range of garments. The shapely cut of this shawl collar coat with its fashionable big button fastening looks great and bang up to date.
This polyester mix coat has a scribble embroidered design with a large shawl collar. Petites, tall, curvy and straight up and down body-shapes will suit this multi-coloured winter coat.
The warmth of the colours and shawl collar gives the coat width that will also work well with a wide brimmed hat for a wedding. Best of all is the modern styling makes it a versatile coat for smart day wear too.
Style: Embroidered shawl collar coat
Colour: Chartreuse
Features: Big button fastening, fully lined
Material: 80% Polyester, 10% Acrylic, 4% Mohair, 4% Polyamide, 2% Wool
Lining: 100% acetate
Brand: Chesca
Sizing: Size 1 = 14 Size 2 = 16-18 Size 3 = 20-22 Size 4 = 24
Dry Clean Only