Bright Royal Blue Outfit
CC's stunning combination in electric blue is a knock out look perfect for your next special event. Cut with superb tailoring gives this new arrival a feeling of style and luxury. The figure flattering mid length shift dress and occasion coat is part of the latest Geo Blues collection.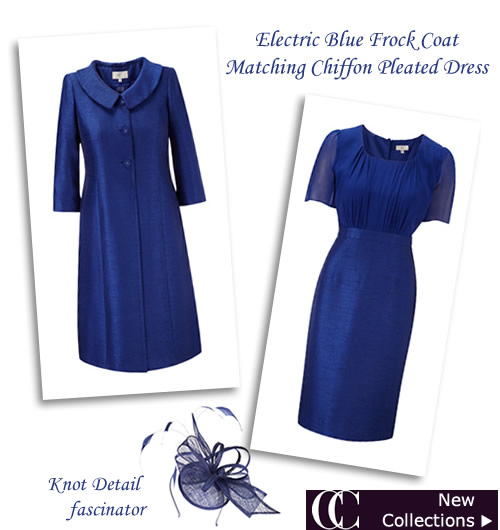 ---
Chiffon Pleated Dress
A statement making colour when it comes to going out dresses and irresistible when worn with a longline ottoman jacket. A hue to flatter most skin tones will add some sophistication to your wardrobe. Features include silk detailing with beading around the neckline dyed to match the dress. Length 102cm.
Tailored Occasion Coats
Create a sharp silhouette with one of CC's elegant frock coats. A perfect cover-up to finish off your evening outfit and ideal for a winter wedding. With rounded collar, three quarter sleeves, back bow and three button fastening at the front, wear with matching chiffon dress. length 107cm. Sizes 10, 12, 14, 16, 18 and 20.
New Occasion Coats…
---
CC Fashion Collection
Enjoy browsing the newest autumn winter collections and discover a rainbow of delights in spot prints, colourblock and multi stripes. Smart separates make mix and matching easy in jersey, silk and wool fabrics. Modern lines in a variety of textures include crinkle, suedette and corduroy. Classic CC designs for daytime and evening elegance.
Knot Detail Sinamay Fascinator
Have fun with accessories and use them to add contrast to a one colour theme. The clean lines of this blue two piece outfit offers a smooth profile that requires minimal accessories. For a day at the races or a wedding a delicate fascinator in the same shade will complete the look. When it comes to choosing shoes and bags, nude or black is a timeless option that compliments just about everything.