Adult Bridesmaids Dresses & Wedding Wear
Adult Bridesmaids Dresses and Wedding Outfits
The wedding date is set and you have your colour theme sorted. Now you can look for that fairy tale dress along with elegant adult bridesmaid dresses to complete the picture. The rest of the wedding party including Mother of the Bride will also be looking out for that special outfit. The good news is nowadays shopping for wedding outfits is not just limited to specialist shops.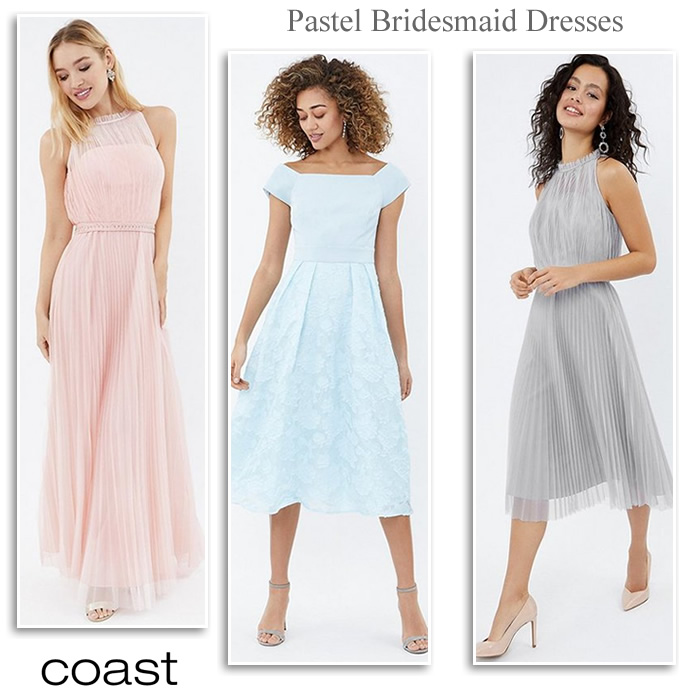 Coast Wedding Outfits and Pastel Bridesmaid Dresses
Pastel bridesmaid dresses in soft shades of blue, pink and grey. Beautiful lace, embroidered and mesh pleated dresses come in a range of styles. Find full skirt midi and maxi dresses with sleeves for extra coverage along with pretty bandeau and off-the-shoulder bridesmaid gowns too.
Long and Short Bridesmaid Dresses
Modern Bridesmaid Collection
Our selection includes long and short bridesmaid dresses from Coast, Phase Eight, Gina Bacconi,  Chesca and, Eliza J along with designer brands from John Lewis and House of Fraser. M&S a popular high street destination has an affordable collection of bridal, bridesmaid and wedding wear too. Visit M&S Wedding Shop
Spring and summer is a popular time for getting married. So most department stores and fashion houses stock a greater range of Mother of the Bride and Groom outfits, young and adult bridesmaids dresses, guests, groom and usher outfits. Plus wedding accessories, hats fascinators and satin shoes.
Today shopping online is an easy option and gives you a wider range to choose from. It's also convenient for sharing your selection with friends and family before you decide to buy.
Wedding Outfits at John Lewis and Partners
John Lewis & Partners and Marks and Spencer have a great selection of occasionwear. Also, designer brands and bridalwear at all price ranges to suit your budget. Another option is to buy from an online catalogue such as Very their new season collections are full of stunning outfits with a modern style for wedding guests, Mother of the Bride and Groom.
Designer Adult Bridesmaids Dresses
For the ultimate red carpet glamour discover Oscar-winning styles from Adrianna Papell and Ariella dress collection. Here you will find sequin, lace, silk, chiffon, and satin gowns, short cocktail dresses and bridal wear. Adult bridesmaids dresses too along with Mother of the Bride evening outfits for the wedding reception. Phase Eight also has a bridal section as well as collections of fashionable pieces for different looks. Coast is another favourite for buying glamorous outfits, maxi dresses and eveningwear. Here you can choose from long and short styles that suit the wedding theme.
Two Piece Wedding Outfits
The idea of wearing separates instead of one-colour dresses is becoming popular nowadays. This offers a wider scope for coordinating colours with the rest of the attendants. The Maid of Honour can choose to wear a different top that contrasts with rather than exactly match the other bridesmaids. You can also mix and match styles such as satin skirts with under netting and pleated bodice or bustier.
Best Bridesmaids Colours
From the array of colours coming out for this year's wedding season, it looks like purple, hot pink, green, royal blue, claret and gold remain a popular choice. Figure flattering satin and chiffon dresses, topped with cute boleros, matching fascinator and shoes set the scene for the wedding occasion. Soft pink hues is a lovely choice for younger members and it may be you contrast deeper shades with older bridesmaids. Today it is perfectly acceptable to dress bridesmaids differently. So we tend to see modern weddings choosing not to have a complete scene of bridesmaids all in the same colour.