CC Wedding Bouquet Collection
Why wait for a wedding when you can have a head start with the latest occasion collections at CC. It's here you'll discover a wonderful range designed to mix and match to suit your style and event. Whether you opt for the whole ensemble complete with hat, shoes and bag or simply go with the fresh and breezy selection of summer dresses and jackets, you're sure to find the perfect look to see you through the season in style.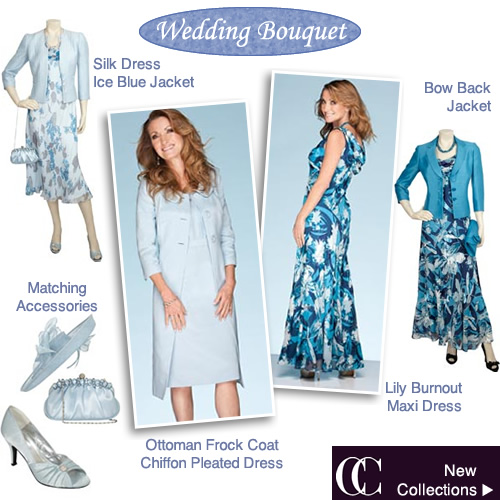 ---
Frock Coat and Matching Dress
Inject a touch of Jackie O into your spring and summer wardrobe with the 60's inspired two piece dress and frock coat. This enviable style has all the hallmarks worthy of any grand occasion.
The Ottoman round collar coat features three-quarter sleeves and three button fastening. Wear with the ice blue chiffon pleated dress or one of CC silk floral dresses, skirts and tops in similar shades.
you may also like…
---
Persian Blue Shift Dress & Jacket
Eye-catching floral silk dresses and stretch jacquard shift styles dominate the scene of the chic Wedding Bouquet collection. Outfits in feminine water-colour tones come in a paint pot of blue hues from cornflower, sapphire, azure and pastel prints. Blue is a favourite of many and a popular choice for formal functions. For a regal combination there's the deep Persian blue stretch shift dress and cropped jacquard jacket.
Shimmer Occasion Jackets
Elegant creations are easy to achieve with CC's range of occasion jackets. Shimmering shades and fine detailing are key and add an effortlessly chic look. Layers of floral, chiffon and silk is soft and romantic perfect for a wedding day outfit. Finish the look with a satin clutch bag with chain, embellished high heels and dainty feather fascinator.
Your summer wardrobe wouldn't be complete without a floor sweeping event piece. The beautiful aqua print maxi dress features a cowl neck and figure flattering design. Team with one of CC's jackets in ivory or blue.