Smart tailoring is back in vogue with fifties style glamour and elegant suits hitting the stores. This classic cut two-piece suit in black and cream is designed by Episode. Established in 1988, this womenswear fashion label offers distinctive clothing that is both modern and stylish.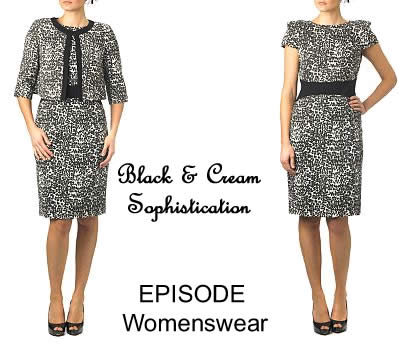 Episode's popular designer products include sophisticated outfits, dresses, jackets and accessories which are exclusive to House of Fraser. Timeless elegance is captured when the jacket is worn together with the dress.
The floral tweed bolero jacket in soft cream and black sets the shift dress off to perfection. The knee length dress has dainty cap sleeves and a round neck. Suits and tailored outfits are the ideal solution for all day events and formal occasions.
you may also like…
The tweed dress and bolero can be accessorised with patent black court shoes or sandals with a matching clutch bag. The smart suit can also be dressed up with a wide brimmed hat or fancy headwear. Fascinators are becoming more popular and can be subtle or flamboyant depending on the look that suits you.
Episode Handpainted floral tweed bolero jacket
Polyester Mix
56% Polyester, 44% Acrylic
Dry clean only
Episode Handpainted floral tweed shift dress
Shift dress
Knee length
Round neck
Cap sleeves
Dry clean only
56% Polyester, 44% Acrylic
Sizes: 8 10 12 14 16 18