Add instant red carpet glamour to your evening wear with this stunning cobalt blue outfit. Weddings and special occasions are the perfect time to add a touch of nostalgic elegance to your wardrobe.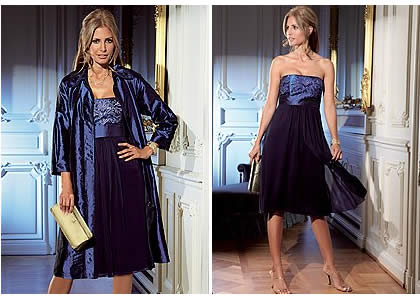 View More Two Piece Occasion Outfits
Mother's of the Bride or Groom looking for a change of outfit for the evening will relish this look. All eyes will be on you as you arrive in style with the chic evening coat providing the perfect backdrop for this coveted bodice dress.
Worn together this outfit has all the ingredients to make heads turn with its fabulous two tone fabric and electrifying shades of cobalt blue. The summer evening coat has three-quarter sleeves in gorgeous shimmering taffeta and falls just below the knee.
you may also like…
The best thing about this look is the two in one wow factor you get with or without the coat. When the party is in full swing you can take the top coat off and show off the eye catching little number beneath.
This gorgeous knee length dress has an embroidered and beaded bodice and floaty georgette double layer skirt.
Sizes Available: 10 12 14 16 18 20 22
Colour: Cobalt Blue