Chic Mix & Match Outfits for a 1950's Style Tailored Look
This season discover inspiration from the understated elegance of the fifties with clean lines and flawless chic. Embrace the revival for ladylike tailoring with this exquisite Italian Tweed Fitted Jacket and Matching Pencil Skirt. Team with the beautiful Rose Dress or Narrow Leg Trousers for another take on feminine fashion at its best.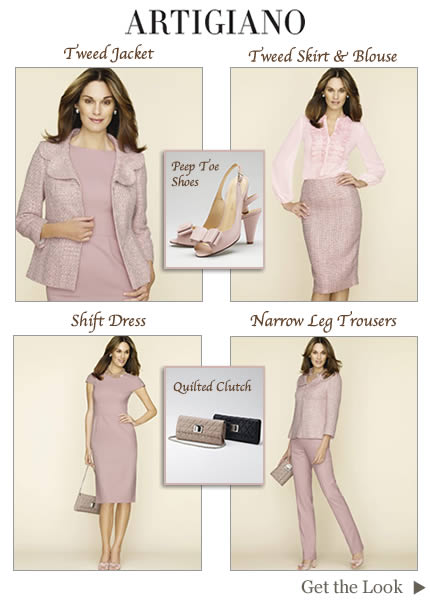 Mix and Match
Updating your wardrobe with a range of stylish mix and match garments and accessories will take you anywhere whatever the occasion. Putting them together to make them work for you will be fun and rewarding as each piece can be worn as an individual item or worn as a suit.
We love the soft rose pink colour of this wonderful collection that contrasts well with so many other items. It's the combination of neat fitting design and luxurious fabrics that define the look of a super glam era.
Dress Matching Coat and Jacket Outfits
Occasion Trousers and Suits
One Jacket Three Occasion Outfits
The dusky rose shift dress and tweed jacket with quilted clutch bag and matching peep toe shoes is a fabulous combination for a special occasion. Lunch with friends? show your flare for fashion with the latest narrow leg trousers, high heels and buttoned up jacket or try the knee length pencil skirt suit with the pink ruffle georgette blouse.
Plus Size Fashion
Artigiano brings you simplicity and elegant Italian tailoring in sizes 8-20 while their sister brand Spirito di Artigiano looks after plus size fashion in sizes 16-28. Enjoy the best of their spring and summer wedding collection with wearable fashion forward designs and tips on how to wear them. From classic styles to all out glamour whatever way you wear them will get you noticed.